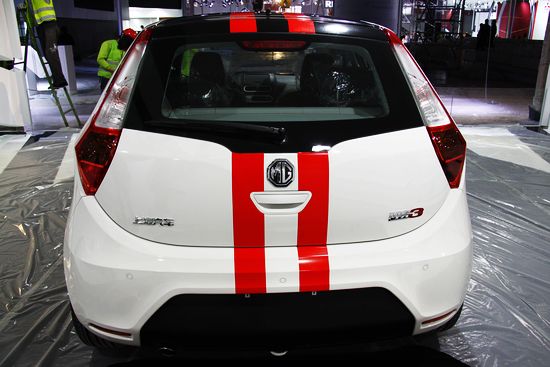 Once again MG gets a seperate and larger stand at the Guangzhou Show

Roewe is again in competition with Rover next door and MG in competition with BMW next door

The 2010 Guangzhou Auto Show runs from December 21st to 27th in Guangzhou, China.

SAIC MG6 sedan models will be listed at the Guangzhou Motor Show

October 18, SAIC MG6 Saloon (sedan) in the Shanghai Expo UK pavilion officially released, but recently learned, MG6Saloon will be formally announced at the Guangzhou auto show and the listing price, and MG6 next year will launch in the UK.

MG6Saloon the length, width and height were 4653 mm, 1827 mm and 1480 mm, axial moment to 2705mm. Appearance, MG6Saloon sedan and hatchback models in the sold mainly in the tail of difference. From the side view, still follows the MG6 sedan hatchback version of the design. In fact, the MG6 sedan can be seen as basically changed the face of the Roewe 550, rear styling is completely retained the design of the Roewe 550.

Dynamic aspects, MG6Saloon sedan and hatchback will be the same 1.8L and 1.8T equipped with two engines, with 5-speed manual and automatic transmission. One 1.8T turbo engine in the cold Honeywell Turbo integrated technology, the maximum power of 160 hp and maximum torque of 215Nm.

Security configuration, MG6Saloon one integrated SCS nine active safety control system, automatic headlight control system, large front and rear ventilated disc brakes size, innovative reinforced USD body, SRS airbags integrated six-position, seat belt warning systems.

Shanghai Automotive Group, Chih-Hsin Chen, executive vice president, said, MG6Saloon sedan will launch a total of 6 models. Specific configuration will increase compared to the current model, and the price will not be much change. On the latest news MG6Saloon sedan cars will continue to focus on love cards.

Editors Comment: MG6 hatchback and fashion models, like, MG6 sedan is also a very successful work, but for those who can not accept the hatchback models consumers, the sedan is a good choice

October 18, 2010, SAIC MG British Museum in Shanghai World Expo officially announced MG6Saloon sedan models. According to the relevant responsible person said that Shanghai Automotive, the new car will be on sale before the end of the year. In addition, MG6 will be listed overseas in the UK next year. The MG6 Saloon sedan will also debut in the country.

MG6Saloon front face of the family retained the very tension MG Wing-Sharp wind dynamic grid nest designed, with bright silver octagonal MGLogo, corresponding to the end of three-dimensional matrix LED taillights, highlights the movement and passion of the brand DNA.

MG6Saloon the same level of satisfaction with body size: LWH 4653/1827/1480mm, and there's 2705mm long wheelbase than its class.

MG6 and the Roewe 550 with a total line of production, so this MG6Saloon sedan Roewe 550 applied directly to the rear design is also reasonable, since this saves some of the development costs. Domestic users preference for sedan created a MG and Roewe to this "hybrid car"!

Source:
http://news.xinmin.cn/rollnews/2010/12/09/8214387.html
Last edited by Windy on Sat Dec 18, 2010 9:19 am; edited 2 times in total