Automobile manufacturers, energy suppliers, public authorities and research institutes from all over the world presented almost 200 vehicles over a period of two days. These vehicles included production vehicles, prototypes and new models and include e-motorbikes, hybrid cars as well as buses and trucks with alternative powertrains.

This international event combines technical tests and evaluations, demonstrations and test drives to gauge the progress of vehicles, energies and technologies. Fuel consumption, pollutant emissions, acceleration, braking, road handling, safety and design performances are evaluated. Technologies and trends are debated in forums and conferences. Private and public sector opinion leaders and decision-makers gauge the advances and future sustainable energy paths for a better mobility. Together stakeholders can promote programs and policies to address sustainable mobility issues.



Vehicles presented at Challenge Bibendum 2011



Shanghai Brand fuel cell car

Shanghai Brand fuel cell caris developed by SAIC Motor Co. Ltd. with its subsidiary, Sunrise Power Co.

It's the first fuel cell vehicle in China based on SAIC Roewe 750 platform. While adopting Plug-In technology, it can be driven by a high capacity battery only or by a hybrid mode between the battery and a pressurized fuel cell system.

It was used as the VIP vehicle during the 2010 Shanghai Expo.

SAIC Shanghai fuel cell vehicle adopted State Project 863 technology is developed by SAIC Motor.

It can be driven by a high power fuel cell with power battery . It adopts 35MPa pressure hydrogen storage system to fuel the vehicle.

It was used as VIP reception vehicle during the Expo Shanghai 2010 in China.


Roewe 350EV Electrical Vehicle

Roewe 350EV is a pure electrical vehicle based on SAIC A class vehicle platform-Roewe 350.

Equipped with safe and stable Lithium Iron Phosphate battery makes this car entirely zero emission. There are both normal charging and fast charging modes on this car. Civilian electricity with 3 phase 220V can be used on normal charging mode and charging time is about 6-8 hours from 10% SOC to 100% SOC. On fast charging mode it only takes 30 minutes from 10% SOC to 80% SOC through special fast charging stake.

Spare electricity on this car can be feed back to electricity grid through charging station when vehicle under non-driven mode. This realizes intelligent electricity grid and battery can discharging to station with 3C current.

Roewe 350EV was performed as a demo car with V2G fast charging-discharging function in China's National Electricity Grid Pavilion for half a year during Shanghai Expo,2010.It was also honored as one of the most valuable cars in EVS25 held in Shenzhen China, 2010.




Electric cars are at a turning point to the practical embarked on



For this year, the electric car is in small quantities from the experimental practical marching toward the real turning point. The previous generation of electric vehicles compared to the current overseas market will most electric cars have a solid through a variety of technical and practical test, seemed more mature. Especially in this year's Berlin Bibendum Challenge, the electric car has been recognized as the industry started selection of new energy vehicles.

In the State Department arranged 10 billion yuan to support the new energy vehicles and key parts industry, as well as some local governments on pure electric passenger vehicles up to 60,000 -25 million in subsidies for huge incentives to encourage domestic manufacturers now have a large number of strongly involved in electric vehicle manufacturing. In addition to the manufacture of batteries started BYD, the SAIC, FAW, Guangzhou Automobile Group will have a more high-end electric car R & D projects. In addition, the Great Wall, JAC, Changan, Chery, Geely, the hippocampus has a pure electric vehicle research and development projects. According to incomplete statistics, there are at least 30 variety of electric vehicles is expected in the short term the market, such as Geely, which also has more than a car. However, when people really explore these models, the most difficult to give detailed data, or data before and after the great transformation, similar to the Chevrolet Volt has been conducted scientific tests such models, it is not seen this, from which reflects the immaturity of China-made electric car.

In this regard, gone the furthest of the SAIC's Shanghai brand Plug-in fuel cell cars, fuel cell cars and Shanghai brand Roewe 350 electric vehicles in the country closest to mass production of cars in this year Bibendum Challenge group of fuel cell vehicles rally score ranked third, behind Toyota and Audi performance by them from the international advanced level only one step away. In this regard, new energy, general manager of SAIC dry band was very fair, said although the "on paper" SAIC's products are not the most leading indicator, but they Expo high density, long mileage of the experimental experience in use are few people overseas can be compared, but more importantly, the main parts of these models are the industry's leading suppliers as backup, so SAIC requirements for these models are able to or even thousands the ten thousand in mass market. Of course, as the first commercially available, the company would be more cautious, may be sufficient in providing logistics support and maintenance services for a certain region in the first, and then large areas. From the perspective of a large company, does not reserve this new electric vehicle technology, most likely in the future technology upgrades in the loss of development opportunities, but really need to do a project like this electric car, consider supporting suppliers is not a easy task. How to maintain the autonomous and independent, but must obtain the industry's leading manufacturer of professional cooperation is especially important. Overseas competitors early start, the relationship with suppliers of the manufacturers closer than China, there are advantages in this respect, of course, but it seems much smaller advantage than conventional cars. This of course can be understood as the rapid development of domestic auto manufacturers the opportunity to grasp but it is still a difficult problem.

Here, you should see it though since 2008 the call for urgent new energy vehicles, but its pace is very slow, and even had more people feel overwhelmed transitional hybrid electric cars become the industry mainstream. However, electric vehicle technology firm secretly still the mainstream position, especially in Berlin this year on the Challenge Bibendum, the trend becomes very clear. In this context, the concept of the blind do not carefully arrange the supporting industries, the domestic electric car is likely to be missed with the new development opportunities.

Source:
http://www.feelcars.com/20110629/c200672997.shtml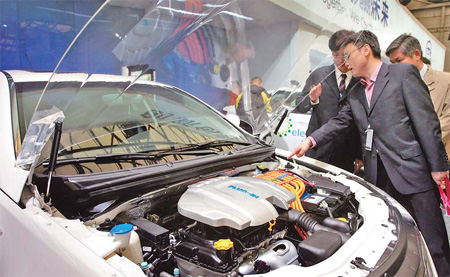 Plug in Hybrid Roewe 550 with the 1.5L NSE engine.
The Shanghai automaker plans to lead in the new-energy vehicle segment

BERLIN - SAIC Group, the largest car maker in China in terms of sales and revenue, will set the pace in the new-energy vehicle segment by launching mass-produced pure-electric and fuel-cell cars during the period of China's 12th Five-Year Plan (2011-2015), said a company executive.

"We will start sales of mass-produced pure-electric mini cars to individuals, with the initial model name of EP 11, under our homegrown 'Roewe' brand next year, and a mass-produced fuel-cell model in 2015," said Gan Pin, the manager of SAIC's new-energy vehicle division.

"The mass-production of pure-electric cars will start in units of several thousand, according to specific orders," said Gan. "And we will expand production step-by-step in line with the rising market requirements."

According to Gan, the pure-electric model, which will be sold in Shanghai first, will be priced at around 200,000 yuan ($31,000).

However customers will not have to pay the full asking price. They'll get a discount of between 80,000 and 90,000 yuan, as the company can claim a subsidy of 50,000 yuan from a national subsidy plan, and more than 30,000 yuan from Shanghai's municipal government.

Sales will then commence in five other cities, with local government support.

A similar deal exists for the

fuel-cell model, which will be eligible for a subsidy of 250,000 yuan for each unit.

"In my opinion, the final price is reasonable and acceptable to individual buyers. That will truly push the use of new-energy vehicles," said Gan.

He also told China Daily that to prepare for the mass use of "green" cars, SAIC is actively cooperating with the Shanghai government to establish a charging infrastructure in the city.

The Shanghai-based car maker will also launch its hybrid plug-in Roewe 550 car next year. The group has invested billions of yuan in the development process during the past five years, leading to a car which can halve fuel consumption.

"To keep ahead in the new-energy vehicle sector, SAIC will make great efforts in building a comprehensive industry chain for green cars during the 12th Five-Year Plan period," said Gan.

In April, SAIC said that during the period, it plans to plunge 37 billion yuan into research and development of new models and new technologies, with most of the investment going into the new-energy vehicle sector.

Gan said that SAIC will improve the development of the domestic green-car industry chain by cooperating with both international and local players.

"We are confident that China has the capability to stay on top of the sector globally," said Gan.

SAIC demonstrated its leading position in the green-car segment, not only among its Chinese peers, but also in the global market, when its two fuel-cell models took third place at the 11th Challenge Bibendum, an internationally recognized competition and gathering of new-energy vehicles and technologies.

SAIC was the only Chinese participant at the event, among more than 50 automotive industry players.

Source:
http://www.chinadaily.com.cn/cndy/2011-05/28/content_12596127.htm