http://translate.google.co.uk/translate?sl=auto&tl=en&prev=_t&hl=en&ie=UTF-8&eotf=1&u=http://www.autoconsulting.com.ua/article.php%3Fsid%3D27330
Already in May, Ukraine will present the MG 5
Car Market | Published - 2013-04-30 17:50:29 (Read 2844 times)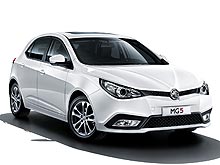 MG 5 - a car which embodies daring design solutions and best achievements of British automakers. This is a car for those who want to get a sense of freedom and drive. The car for the brave spirit and character. Fast and brash - ready to conquer new MG5 Ukrainian motorists.
On the outside, the car attracted the attention of the body lines that flow into the MG logo on the hood, creating the effect of sunlight passing through the diamond. It's a bold design decision gives the car a dynamic, unique style and gives a feeling of freedom.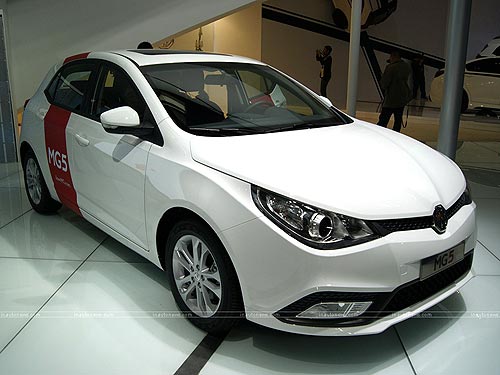 The original design of the headlights, similar to the cat's eyes, combined with the shape of the body, make a car similar to the leopard frozen before the jump - a bold, swift and bold.

Chief designer of the car MG5 Carl Gotham admitted: "When I discussed his vision with the MG 5 MG chief designer Anthony Williams-Kenny, we realized that the new car will have so much energy and sexuality, which is apparent not only in design but also in the the nature of the car. "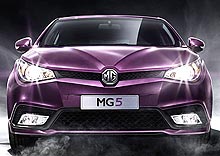 Indeed, the nature of MG5 can be traced not only in the stylish exterior design. The car's interior also impresses with a spectacular combination of classic style and modern. Beauty MG5 is made entirely of high-quality and environmentally friendly materials and chrome inlays perfectly fit into the bold style of the interior MG5.

Car owners will be highly appreciated the high level of comfort of the new MG5. A wide range of seat and steering settings, informative optitronnaya panel, climate control, powered sunroof and many other options provide the driver maximum driving convenience.

Spacious interior MG 5 comfortably accommodates 5 people. The car laid out such an important caveat, as the large legroom in the rear seats. Therefore, even a long journey on this car will be absolutely comfortable.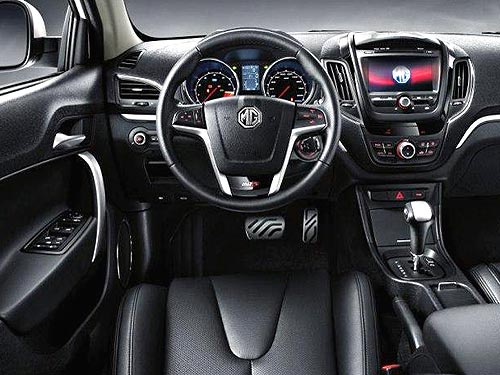 The parking aid system (V-PDC) with audible alarm and a rear view camera allows you to control what's behind the car. Thus, the new park on the MG5 is always easy and pleasant.

Much attention is paid to the safety of the car. Security - this is especially proud of the development team of British MG 5. Reinforced body structure, a number of auxiliary control systems of the latest generation (ABS, EBD, BA, CBC, TCS), six airbags, and more are designed to provide the driver and passengers maximum protection.

With multi-functional multimedia system MG5 driver and passengers can always enjoy your favorite music on the go or watching DVD. Sync your phone with an audio system via Bluetooth, can be connected without being distracted from the road. This will be a distinct advantage for people who have to communicate a lot during the journey.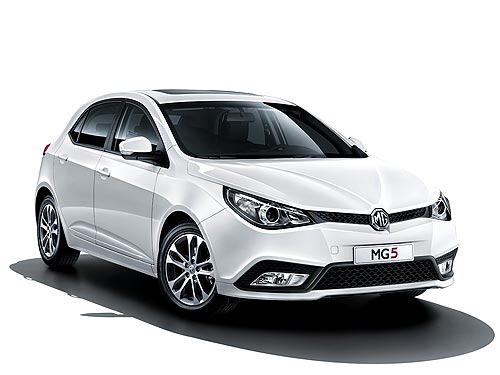 Engine VTi-Tech 1.5-liter engine with variable valve timing VCT definitely fits courageous natures love speed and drive. A combination of optimum engine performance and suspension settings MG5 provide a high level of control and stability.

New MG 5 transmits real British style which Morris Garages support for over 88 years, and still exhibits fresh design solutions and really bright appearance.

MG 5 will be officially presented to the public at SIA'2013 from May 29 to June 2.

Read more about the cars, the acquisition of financial programs, insurance, onlinewww.mgauto.com.ua or telephone information line: 0-800-500-205 (free from all fixed phones in Ukraine).

MG in FACEBOOK
MG in Youtube